If you have any questions or need additional information, please refer to the contact information on the left of this page or the contact form at the bottom of this page.
Opportunities in Equine Practice Seminar (OEPS) is the leading student forum in equine veterinary medicine, with over 4,100 students attending since its inception in 2003. The seminar's career management format offers practice and financial management information for the student and opportunities for practitioners to establish long-term mentoring relationships with the approximately 200 -225 veterinary students attending.
Through OEPS sponsorships, travel and hotel funding are provided for third-year veterinary students to attend the meeting, where they receive information about various avenues and disciplines of equine practice, financial remuneration, employment, practice ownership, and marketing. Students gain valuable information through face-to-face encounters in the Practice Exhibit Hall and presentations from practitioners, financial advisors, and practice management consultants.  
Practitioner participation through attendance and financial support is the key to this event's success. OEPS relies on its sponsors' generous support to maintain this meeting's quality. With a shortage of equine veterinarians, we must continue to encourage gifted students to pursue careers in equine practice and equip them with practical information for launching successful careers.  
Sponsorship provides a great means of broadening your competitive edge by improving your image, prestige and credibility by supporting an amazing cause.
Supporters make it all possible! Meet the amazing organizations fueling our mission by clicking the button below!
OEPS 2024 will take place at Lexington Griffin Gate Marriott Golf Resort & Spa in Lexington, Kentucky from August 30th to September 1st.
Lexington Griffin Gate Marriott Golf Resort & Spa in Lexington 
Address: 1800 Newtown Pike, Lexington, Kentucky, USA, 40511
Phone: +1 859-231-5100
Website: Click here to visit their website!
Stay in the 'Horse Capital of the World'. Set in a peaceful lakeside area within five minutes of a variety of shops and restaurants, we're three miles from the University of Kentucky and a 15-minute drive to Keeneland Race Track.
We could not be more excited to see you at OEPS 2024.
For more information on Opportunities in Equine Practice, please contact seminar host Dr. Craig Lesser at [email protected].
For questions or more information on sponsorship, please contact Latonna Wilson at (859) 280-3315 or [email protected].
For student questions and information, please get in touch with Whitney Fields at (859) 280-3316 or at [email protected]
August 30-September 1, 2024
Lexington, Kentucky


The American Association of Equine Practitioners (AAEP) was founded in 1954 by a group of 11 charter members who saw that together they could direct the focus of equine veterinary medicine.
Today, the AAEP, headquartered in Lexington, Ky., at the Kentucky Horse Park, represents an educated group of men and women who cover a broad range of equine disciplines, breeds and associations. Nearly 9,300 veterinarians and veterinary students in 61 countries are members of the AAEP.
Our Mission
The AAEP's mission is to improve the health and welfare of the horse, to further the professional development of its members, and to provide resources and leadership for the benefit of the equine industry. These principles have guided the AAEP for more than six decades in the activities and services it provides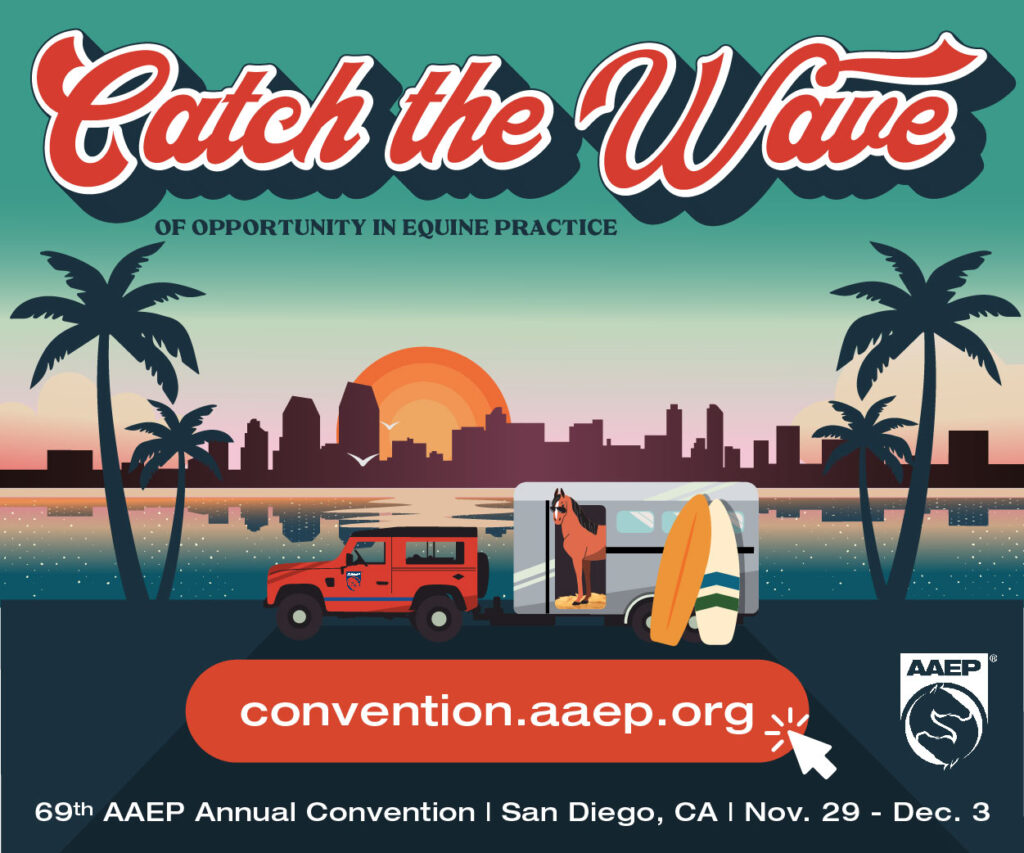 Check back soon for more updates!